I sometimes help my friend by taking his car to the dealers service center. I don't mind. I like driving his car and he lets me do errands in it. Win/Win right? So the last time I was at his luxury dealer I had this experience and wanted to share it.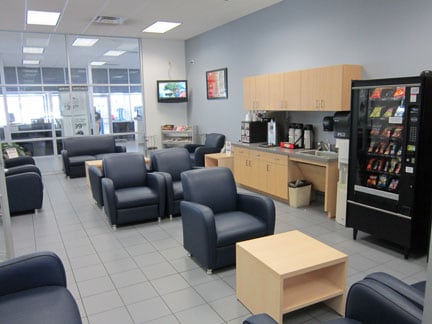 I was making small talk with the lady who was waiting for her car. She commented how different this dealer was from another one she had been to in Minnesota. She said that in that dealer they had someone serving you coffee, individual offices that you could work on your laptop, they custom made a cd to give to you with songs that they learned you liked, food/treats, fireplace in each room with waterfall, and so many other luxuries. I was amazed at hearing that. I have never gone to a service center and treated that way. "Yeah so when I came here I was surprised at the rough treatment I got here. I was like, `This is it?'" I was surprised at her reaction. While it would be wonderful to have that experience, she was at a luxury dealer with: leather chairs, 3 types of free snacks, water bottles, coffee, espresso and many other things that many dealers do not have. So she wasn't getting what I considered "rough treatment". However to be empathetic I smiled and listened.
I immediately started to think about what she said. When you get fantastic treatment that is wonderful. However when you realize that most places are going to give you an average service, then perhaps lowering your standards would make you happier. She was sad that this dealer wasn't the dealer from the past, and while I understand that, it doesn't matter. If she wants that dealer she can move back to her old location. Every place has its own advantages and disadvantages, and you accept that when you make the decision to live where you are. We are adults and we can deal with not be spoiled all the time, right people?
Similar Posts: