I had a conversation with a coworker and we were discussing the benefits and costs of outsourcing based on a research study I found from an authoritative source. He is an accountant, so he is very familiar with what saves money and what doesn't. His conclusion was that Outsourcing doesn't save money when the company reaches a certain size, but it might make sense for companies that can't afford a full-time person.
I have been thinking of this idea of value for years. I am often asked by clients to save money and I have noticed some really unfortunate decisions made by people. When people superficially analyze saving money, they make decisions that are not in their best interest. It is fascinating and sad. People don't realize the downside of their decisions until after they are committed to them, and too often the soft costs are ignored until it is too late.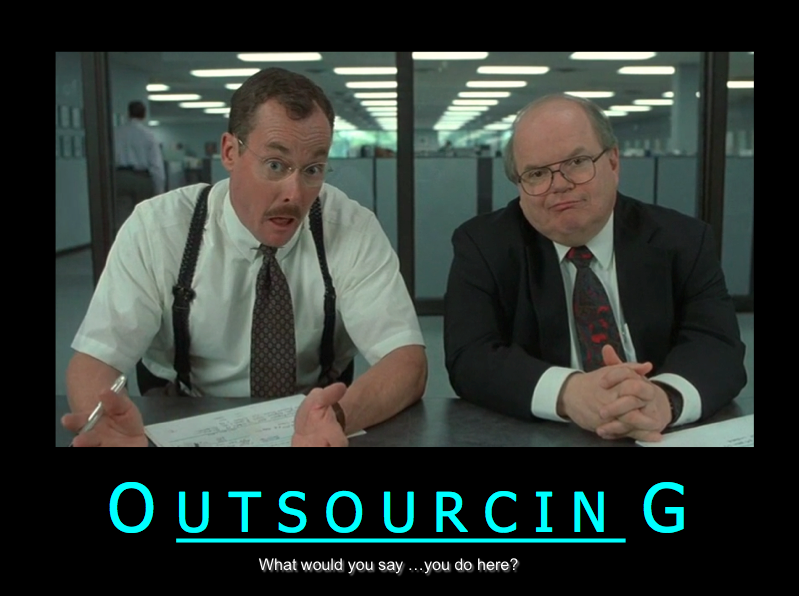 For example, I have worked with companies who have outsourced IT. Even though I was IT I was in a special position so I continued working there. What I saw is that the outsourced company quality was bad both in responsiveness and knowledge. Most people who are skilled in IT tend to be already hired as a full-time person. Most outsourcing that is cheaper, is because the people are often at the beginning of their IT career not someone who has had significant experience.
So you say to yourself, "Well its fine that they know less, because our users have simple problems." Wrong! People who work for a company do not have easily solved problems. Many of the biggest costs in a company are due to processes and systems that haven't had enough attention focused on them. For example, video conferencing is difficult for many companies. They tend to buy systems that people are unfamiliar with and almost the rule is that IT has to work out the issues at many meetings.
Even if you have perfect, new and well-supported systems, what happens with outsourcing IT and many other aspects, is that now you are no longer a priority. Again when I worked at companies with outsourcing, it was painful for people to be forced to accept that their priority was not the outsourcing companies priority. Too often with IT, the issue is not just technical but also based on the quirks of individual employees. On site IT understands that.
For example, one user forgets his password on a regular basis. When he called the outsourced help desk, he got a random person and they never learned the history of his user. They reset his password, and that just caused the problem to be worse. Now he couldn't remember that password. The easiest solution is often not the best one, because the easy solutions have generally been tried and don't work. In this case, I had to work with the user to find a way to remember his password, and then the company saved the $50 per support call he was doing.
Don't misunderstand. This isn't a justification of me to stay at whatever place I am working at. It is more of a request for managers or decision makers to consider the totality of what an employee does, before decisions of outsourcing are done. In addition to solving problems IT often improves business processes, trains people on software, and informally settles disputes and contentions. If someone is smart, dedicated and focused on a business success it is short-sited to get rid of them to find someone cheaper. You never can save yourself back into profits, it requires investment and real leadership.