My friends PowerBook G4 logic board failed and Apple quoted her $1100 to replace it.  Since she is a poor graduate student, that wasn't a good option. She bought a 2.5 external enclosure for $20 at Best Buy and I took the computer apart and popped out the 80GB hard drive. However there was another problem. The drive wouldn't mount.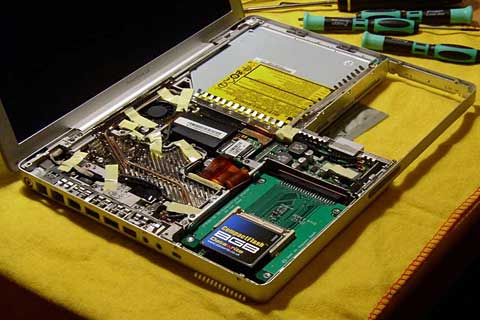 I ran Disk Utility and the drive said it had a keys error that it couldn't fix. It was being seen in the System Profiler of course, and Disk Utility so I figured it was a software issue.  I installed Techtool 5 on my Macbook, and ran the Disk Volume Rebuild option. Almost everything was in error. After it rebuilt it, I restarted my computer. It didn't mount.  While I was thinking about the next step I should take, after about 2 minutes it popped onto the desktop with all the files! I copied them to my HD to copy onto her new MyBook USB storage drive. Success! She was so happy she didn't loose her photos of her SO or important financial documents.
I didn't charge her but she bought me food for helping her. There are times in life where you don't know what the next step is, and the next step reveals itself. It is almost magic really.
If this didn't turn out good, that would have been ok too. I would have done my best and the next option would have been for her to send it to a professional data recovery service. Most of them charge a great deal of money. Most people can't afford the thousand dollar charge, and so they just accept that their files are lost. In these kind of data recovery cases I tell people that I can't guarantee anything, but I will do my best.
One other person that asked me to help them I wasn't able to recover their data. However in every other case I was able to. Not because I am a genius, but because sometimes you get lucky and things work momentarily.
It is better to be lucky than smart, but if you are both, wow, what a combination.